Erich Arthur Schmidt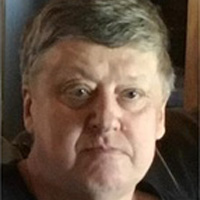 Erich Arthur Schmidt
Date of Passing: May 13, 2019
Born: May 22, 1951
Obituary
Erich Arthur Schmidt, age 67, of Sprague, Manitoba, passed away suddenly on Monday, May 13, 2019, at home with his wife by his side.
He is survived by his beloved wife Marcia (nee Lorenson), their children: Nathan (Shannon), Heather (Darryl) and Jeremy; sisters: Lis, Lil (Jim) and Brenda; grandchildren: Jonathan (LaDawn), Jamie, Kira; along with his great-grandchildren Dieter and Yannick.
He was predeceased by his parents Fredrich and Lina Schmidt, and brother, Alexander.
A celebration of life will be held on Friday, May 17, 2019 11:00 a.m. at the Sprague Community Centre 2045 PR-308, Sprague, Manitoba, with interment to follow at Sprague Community Cemetery.
In lieu of flowers, donations in memory of Erich may be made to East Borderland Community Housing.
A special thanks to all the first responders.