Elsie Dueck (nee Plett)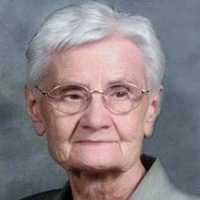 Elsie Dueck (nee Plett)
Born: April 1, 1934
Date of Passing: June 5, 2019
Obituary
Elsie Dueck (nee Plett), aged 85 years, of Grunthal, MB., formerly of Ridgewood, MB., passed away on Wednesday, June 5, 2019, at the Menno Home for the Aged, Grunthal, MB.
She is survived by her stepson, stepdaughter and their families along with two sisters, six brothers and three sisters-in-law.
Elsie was predeceased by her husband Ben, both parents, one stepson and three brothers.
The funeral service will take place on Monday, June 10, 2019, at 2:00 p.m. at Ridgewood EMC, R.M. of Ste. Anne, MB., with viewing one hour prior to the service. Burial to take place at the church cemetery.