Roseline P. Cornelsen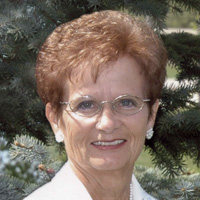 Roseline P. Cornelsen
Date of Passing: September 5, 2019
Obituary
Roseline P. Cornelsen age 81 years of Rosenort, Manitoba passed away September 5, 2019 at the Bethesda Hospital in Steinbach, Manitoba.
She is survived by her husband Arthur D. Cornelsen, daughter Arlene (Nelson) Klassen, son Cameron (Pam) Cornelsen, 11 grandchildren and three great grandchildren.
The funeral service for Roseline will be held Thursday, September 12, 2:00pm at the Rosenort Fellowship Chapel.
Viewing will be held Wednesday, September 11, 7:00pm at the Heritage Manor (14 Spruce Crescent, Rosenort, MB) with a devotional and time of sharing at 7:30pm.
A private family burial will take place prior to the funeral at the Rosenort EMC Cemetery.
Donations in memory of Roseline may be made to Serving in Mission (10 Huntingdale Blvd., Scarborough, ON, M1W 2S5).