William Treble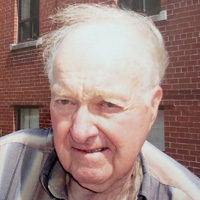 William Treble
Date of Passing: March 18, 2020
Born: February 20, 1930
Obituary
William Arthur Treble, 90, of Steinbach Manitoba, passed away on March 18, 2020 in the Morris Hospital after suffering multiple strokes and an 11 month battle.
He was born in New Toronto, Ontario on February 20, 1930. He is survived by his son Stephen Treble, his daughter-in-law Deneen Treble, and his 3 grandchildren Tatiana, Victoria, and Spencer. He was predeceased by his son Glenn Treble and his wife Dorothy Marguerite Treble (Townsend).
A recognized Professional graphics artist, William painted many pieces of artwork. Some of which lead to his being named Honorary Chief Yonsada by the Mohawk Tribe upon completing various pieces of art for them. He also enjoyed woodworking and watching and participating in parades. Especially those featuring marching. William served in the Old Comrade Association of the 48th Highlanders of Canada.
William was a member of the North Metro Toronto Single Parents association for 16 years and served as president for 6 years. He was also a member with the Legion in Toronto and Steinbach.
He was a loyal Toronto Maples and Toronto Blue Jays fan and enjoyed watching games on TV with his son Stephen.
He will be laid to rest in a family plot in Toronto, Ontario. A private family memorial service will be held  at Birchwood Funeral Chapel, Steinbach, MB.