Bradley Scott Loewen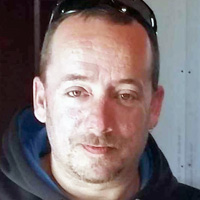 Bradley Scott Loewen
Date of Passing: September 14, 2021
Born: March 26, 1973
Obituary
Brad was born on March 26, 1973 and grew up near Riverside. He passed away on September 14, 2021 at St. Boniface Hospital at the age of 48 years old.
Brad leaves to mourn his passing his children Katelyn and Scott, his parents Ben & Joan Loewen, siblings (nieces/nephews) Bonnie & Abe Klassen (Tirian& Amaya), Wendell & Kim Loewen (Carter & Megan), Charles & Rachel Loewen (Trent & Alexis), Tim & Rachel Loewen (Emily & Carly). He was predeceased by his grandparents Jacob & Agnes Loewen and Jacob & Olga Braun.
Brad's interest in farming, mechanics, and dirt bikes started from a young age and continued right through to his illness this summer. He was eager to help family and friends with whatever projects they had and always enjoyed his visits with them as well. Monitoring weather patterns was a hobby that allowed him to enjoy many storms.
The funeral service will be held on Friday, September 17, at Rosenort EMC at 2:30 pm with a private burial prior to the service.
Viewing will be held on Thursday, September 16, from 12:00 pm – 9:00 pm at Morris Funeral Home.
The family wishes to thank the doctors and nurses at Boundary Trails Health Centre, Health Science Centre and St. Boniface Hospital for the excellent care they provided Brad and for the support of family and friends at this difficult time.
In lieu of flowers donations may be made to assist with funeral costs, with any remainder to be placed in a trust for his children.