Margaret Funk (nee Krahn)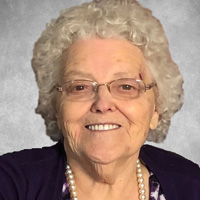 Margaret Funk (nee Krahn)
Date of Passing: January 23, 2022
Obituary
Margaret Funk (nee Krahn), aged 88 years, of Niverville, MB., passed away on Sunday, January 23, 2022, at the De Salaberry & District Health Centre, St. Pierre, MB.
She is survived by two daughters, one son, their families and two sisters along with their families.
Margaret was predeceased by her husband Otto and one daughter.
The public come & go viewing will be held on Friday, January 28, 2022, from 6:00 p.m. to 8:00 p.m. at Birchwood Funeral Chapel, Steinbach, MB. Please line up in your vehicle on the west side of the building and a director will usher you in when it is safe to do so.
A private family service will be held with interment at Hespeler Cemetery, Niverville, MB.
Donations in memory of Margaret may be made to Union Gospel Mission.