Annie Reimer (nee Barkman)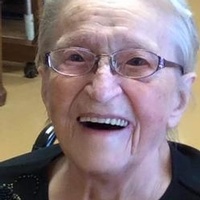 Annie Reimer (nee Barkman)
Born: October 8, 1916
Date of Passing: January 8, 2018
Obituary
Annie Reimer, age 101, of Steinbach, MB, formerly of Landmark, passed away on Monday, January 8, 2018 at Rest Haven Nursing Home, Steinbach, MB.
She is survived by her daughters: Susan (Peter) Toews and Sara (Melvin) Dueck, her sons: Victor (Kathy) Reimer, Sid (Gladys) Reimer, Don (Anna Marie) Reimer and Allan (Edith) Reimer, one daughter-in-law Rita Reimer, one sister Ella Dueck, and one brother Harvey Barkman and their families.
She was predeceased by her husband Abe and six children: Stan, Marian, Arnold, Johnny, Grace and Jerald.
The funeral service will be held on Saturday, January 13, 2018 at 11:00 a.m. at Birchwood Funeral Chapel, Steinbach, MB. A private family burial will take place following the reception.
If friends desire, donations in memory of Annie may be made to Mennonite Central Committee, 134 Plaza Drive; Winnipeg, MB R3T 5K9.