Anne Funk (nee Neufeld)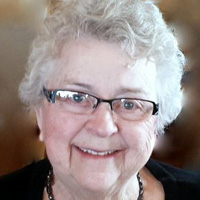 Anne Funk (nee Neufeld)
Date of Passing: July 30, 2022
Born in: 1938
Obituary
With great sadness and heavy hearts, we announce the passing of our dear mother, grandmother and great-grandmother, Anne Funk (nee Neufeld). She passed away Saturday, July 30, 2022, at her residence in Steinbach, MB., at the age of 83.
She is survived by her children: Irvin (Marilyn) Funk, Lorne (Edna) Funk, Audra (Steven) Lepp, Phyllis (Corey) Penner, and their families. She is also survived by one stepbrother Bernie (Mary) Hildebrand, two sisters: Elisabeth (John) Kasdorf & Susan (Cornie) Funk, one sister-in-law and many nieces and nephews.
She was predeceased by her husband Peter Funk, three sons in infancy, seven brothers, one sister, and five sisters-in-law.
The livestreamed funeral service will be held Sunday, August 7, 2022, at 3:00 p.m., at Birchwood Funeral Chapel, Steinbach, MB., with interment at Heritage Cemetery, Steinbach, MB. Viewing will be at the chapel one hour prior to the service.