Jake Driedger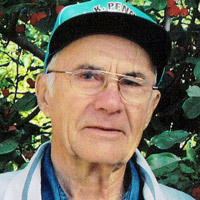 Jake Driedger
Date of Passing: September 27, 2023
Born in: 1934
Obituary
Jake Driedger, age 88, of Steinbach, MB, passed away peacefully 11 days after the loss of his wife of 69 years, on Wednesday, September 27, 2023, at Bethesda Regional Health Centre, Steinbach, MB.
He is survived by his three daughters, one son and their families.
He was predeceased by his wife of 69 years, Annie Driedger, on Saturday, September 16, 2023.
Jake married his wife Annie Hiebert on June 27, 1954. He loved to fish, hunt, and go to auction sales. He was an avid gardener, a crokinole fanatic, and a prankster.
A livestreamed joint memorial service for Jake and Annie will be held on Sunday, October 8, 2023, at 2:00 p.m. at Birchwood Funeral Chapel, Steinbach, MB.