Brock Penne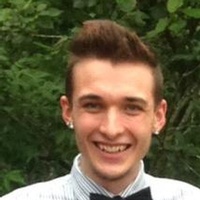 Brock Penne
Born: May 15, 2000
Date of Passing: March 11, 2019
Obituary
On Monday, March 11, 2019, my Uncle Brock died (UB). I would like to say my world changed, but it did not as I am only 3 years old.
What I can tell you is that my mom and dad, my Auntie Jenn and Auntie Ally are all very sad. The worse part of it all is that I won't remember my UB as I get older. I hope Mom and Dad and my aunties will remind me of how wonderful and precious he was.
How he scooped me into his arms when I was just born without hesitation, even though he was the last born and he never even held a baby. When I wasn't even big enough to walk, he pulled me on a blanket on the kitchen floor because I was cranky. As I grew and got bigger his love for me grew even more.
Oh! Mom and dad please don't forget to remind me of the icicle that was bigger than me and my awesome blanket fort!!!
Delilah
Memorial service will be held on Monday, March 18, 2019, at 11:00 a.m. at Birchwood Funeral Chapel, Steinbach, MB with a private family reception to follow.