Kimberly Neufeld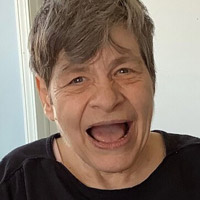 Kimberly Neufeld
Date of Passing: January 19, 2023
Born in: 1962
Obituary
Kim Neufeld passed away on Thursday, January 19, 2023 at the age of 60 years.
She was predeceased by her mother Mary in 2020, her father Jake in 2011, and her nephew Justin in 1981.
Kim is survived by her siblings Debra, ("Bob") and Don. She leaves behind four nieces and nephews: Whitney, Steele (Amber), Louie, and Madeline, as well as great nephew and great niece Sunny and Kasper.
Kim was born with Cerebral Palsy. She fought health battles and limitations. She could show her love without ever saying a word. Not everyone has those abilities. Her life wasn't easy and it wasn't glamorous. But she was happy. We celebrate what she taught us about life and love.
The family would like to thank Kim's special caregivers at 82 Westdale St., Steinbach and the great staff on 1st Floor Medicine at Bethesda Hospital.
A Celebration of Life will take place at a later date.
Your Life was a Blessing
Your memory a Treasure
You are loved beyond Words
And missed beyond Measure